WOOD SIDING PRODUCTS | IPE SIDING, BATU SIDING & CUMARU | RAINSCREEN & BEVEL SIDING
Previous
Wood Siding - Beauty, Performance, Value
Nova offers a wide selection of options when it comes to exotic hardwood siding in Batu Mahogany, Ipe and Cumaru woods. We have years of experience supplying our customers with some of the most incredible wood siding products available. Natural hardwood siding is durable and absolutely stunning! Using our naturally durable and strong woods as siding is certainly one of the most beautiful ways to provide your home or commercial building with a unique touch of class.
Wood siding can be provided in just about any pattern desired, whether you want a traditional bevel siding or shiplap rainscreen siding - or a more contemporary look for your home. Our Batu Mahogany hardwood siding has become very popular as an alternate to Western Red Cedar and California Redwood. Especially when it comes to clear grade products such as bevel siding and rainscreen wood siding, our Batu hardwood siding is much more durable, more consistent in color, and an outstanding value.
Low Maintenance, Premium Quality, Sustainable
For low-maintenance, durability, and incredible beauty, choose high quality Nova wood siding products, and avoid the shortcomings of manufactured and softwood products. Our naturally durable wood siding products will easily outlast typical domestic softwoods - and they are surprisingly affordable, making it a great choice for any homeowner, builder, or business. We also carry a full line of hardwood decking as well as unfinished and prefinished hardwood flooring. Feel free to call or email us with any questions regarding any of our hardwood siding, decking or flooring products.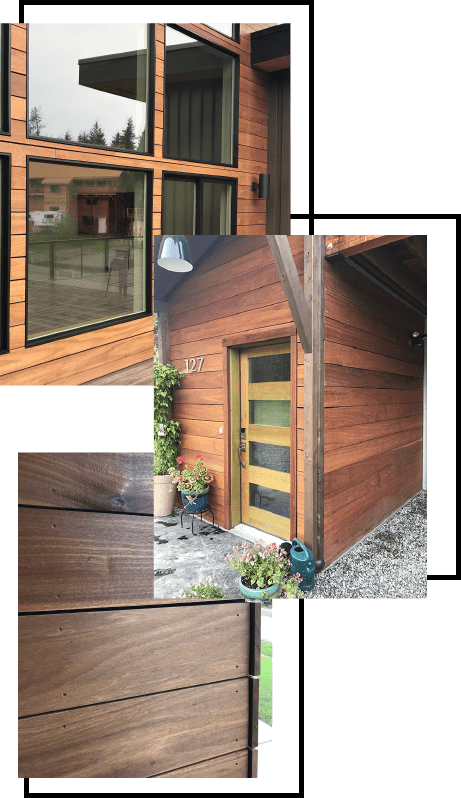 Class A Fire Rating, 25 Year Warranty
Novas Batu hardwood is a Mahogany wood siding with a Class A fire rating which makes it the perfect choice for building in dry areas such as California, Nevada, Arizona, New Mexico, Oregon, and Idaho; or any areas with building regulations that require Class A fire rated materials.
Wood Siding Installation Considerations
Installing Batu Mahogany, Ipe or Cumaru hardwood siding cannot be done in exactly the same manner as softwoods such as Cedar or Redwood. Hardwoods have a higher amount of movement and the design of the siding system must take into account up to 1/4" of movement when the boards go from dry conditions to wet conditions over the seasons. We recommend an air gap Rainscreen system such as Nova's ExoClad QuickClip, Climate Shield, Cor-A-Vent or furring strips placed behind the hardwood siding. Installation of gutters and flashings is also critical so that water does not run directly down the side of the building.
Rich Color Requires Regular Reapplication of Oil Finish
Wood siding products produced from naturally durable hardwoods will maintain their structural integrity as they age, and will gradually age to a lustrous silver-grey if left untreated. To retain the rich natural color, we recommend a high quality penetrating oil finish with ultraviolet inhibitors every 2-3 years on vertical surfaces. Regular cleaning and reapplication of finish will ensure that the hardwood siding retains its natural beauty for many years. Nova offers an oil finish perfect for exotic wood siding and decking applications called ExoShield along with online instructions on how to finish your hardwood siding.
Wood Siding Options
The diversity of naturally durable wood siding options we can offer is outstanding. From traditional and classic bevel siding, rainscreeen siding, shiplap and T and G, to ultra contemporary wide plank S4S boards, Nova has the experience and product line to help you pick the ideal product for your application. We work with leading architects around the globe to help choose the correct product for each unique situation. We understand exactly how these naturally durable hardwoods perform and how to specify installation parameters for a successful and beautiful result.